Hilavitkutin julkaisee ensimmäisen englanninkielisen artikkelin. Tästä ei tule tapa. Nyt vain sattui erittäin otollinen tilaisuus, sillä eräs lukijoistamme on kirjoittanut varsin pätevän artikkelin MilSub-5517-rannekellosta. Kiitos, "discordianist". Tämä artikkeli on suora lainaus hänen arvostelustaan www.tz-uk.com -sivustolla.
First impressions: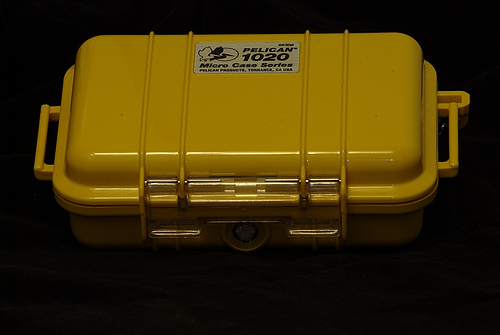 When I opened the package I was treated with bright yellow micro Pelikan case. Solid sturdy thing that made me feel relieved since the cardboard box was beaten and kicked by the post officials and looked a bit like a raisin. Relief. Now to the important part.
After installing the bracelet on the watch head I held a serious piece of metal on my hands. Nice sturdy feel and everything looked great. First impression was amazement specially considering the price point of this product.

Case and finishing quality: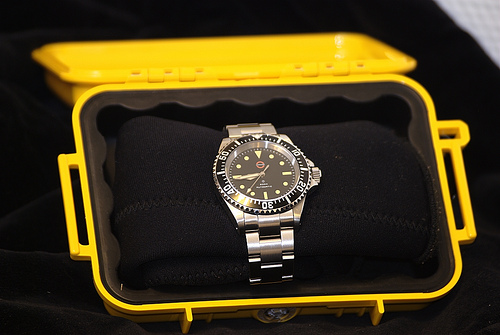 Case is solid block of steel with superb finish. Looks good enough to kill. Special remarks from mirror finished surfaces (which are remarkably shiny) and matt surfaces which had great quality of finish on them. No tool marks anywhere. This piece looks and feels better then I could have hoped for at it's price range. Spectacular. I knew Dan was picky about the quality and this is where it shows!
There's only one point of criticism about the case but that was known before I even laid my hands on the watch. Drilled lugs. When Dan received the cases lug holes weren't drilled thru, but only had "drilled" look on them. Dan sent cases to be drilled by hand in Australia and now they work as they should but since the work was made by hand I had to play a bit with Bergeon tool to change straps. They work and the finish of the lugs is great (no signs of sloppiness here) but holes ain't exactly where they should so changing straps takes bit more work then it should. Dan did assure me and others that in next release this is done right and from the start.
Bracelet: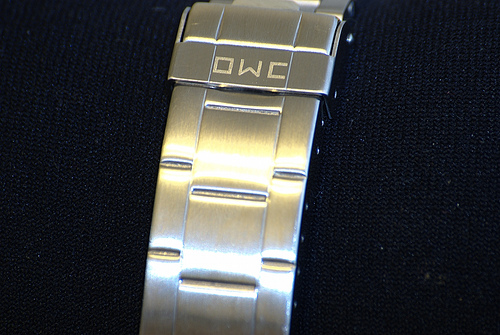 I'm by no means a bracelet guy my self. But I've worn this on it's bracelet all week now (except today during which it has been on mesh) and it feels comfy as anything. Bracelet has solid end pieces, screwed removable pieces and a clasp which looks surprisingly lot like Rolex one. Clasp is the only weak part of this design, it's solid and sturdy but more like "normal" then rest of it which is serious quality piece. It's fold over design and stays on wrist no matter what. It's rather firm to open and feels like there's no fear of bending it like on some cheaper ones. Bracelet shares the high quality surface finish of the case. Superb piece and serious amount of stainless steel.
Nato:
Dan supplied the watch with black nato. Standard issue and there's not much to say about it. Works, it's comfy and of reasonably high quality. Are there better ones available? Yes of course. But it's still a good piece and it came along with no extra cost (so saved me few bucks). One improvement idea for Dan, get the nato buckle signed OWC or Orange as bracelet and mesh are.
Optional mesh bracelet: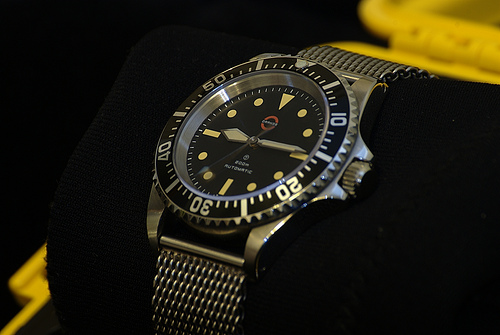 Dan uses mesh bracelet from well known german maker. It's a high quality piece with solid feel to it. I like it a lot and I have a very special purpose for it. I use it when I wear a wetsuit. I've adjusted the bracelet for my wrist and the mesh for my wrist + wetsuit (5mm neoprene) Besides that mesh looks just at home on this divers watch and brings it's vintage heritage to date and gives that special look when on a diving trip. This is in fact the best mesh I've handled short of Omega and we all know that Omega is the king (and costs more then this watch and optional mesh combined).
Bezel:


Bezel clicks 120 times each rotation. It's smooth and firm and there's very little play in it. Less then Seamaster I used to own (but that was very very used so I have no idea what it was like when new). Bezel is aligned perfectly on my watch and it's ratcheted in the familiar way for all Rolex owners. And unlike many other similarly styled watches this one has full minute marks on bezel. Bezel lume marker is perfectly centered on my watch as you can see from pics. Nothing bad to say about it (well if that smallest play in it could be removed I would be happy, but that's not a issue).
Dial and hands: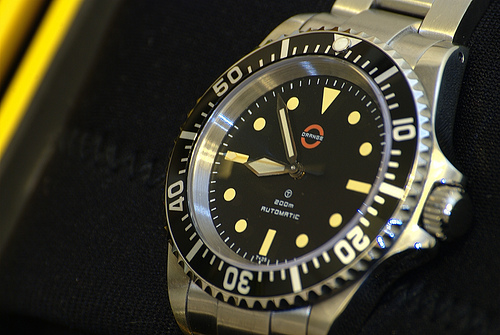 Dial printing is crisp and exact. Matt finish is even and of highest quality. I'm expecting to see the release II only to see the superb dial throu AR coated crystal (which is one of the evolving things from initial release I to release II). Hands have good beefy size and they look just right. Nice weight to them and it's extremely easy to tell the time at glance. No wonder these hands were MOD specced. There are unnecessary printing on the dial, T and T<25 but since they are small I don't find them too disturbing. Would I prefer the dial with out those prints? Yes. Do I mind? No. Also I love the Orange logo, clean, natural, modern and not too much to your face (but for Brits it does bring up a mental image of certain underground mass transport system).Movement: Dan decided to use SeaGull ST21 as the base movement in his MilSub-5517. It's a good choice since it's a good quality clone of standard grade ETA 2824-2 and as said in plenty reviews it is of comparable quality. It's nothing fancy, but it works well and it's known for robust performance. Dan also deals directly with manufacturers so his movements are guaranteed to be genuine and of good quality. I don't know too many people with as high quality control standards as Dan and those I know charge way more money for their products. Sorry no movement pics but I'm diving with this watch next week and I don't have time to get it pressure tested before that!Overall conclusion: This is solid piece, best bang for buck available today. There are finer watches, more elegant watches, cheaper watches, watches with nicer movements. But this piece is solid tool watch for a working man. I'm going to be taking this thing down under the surface to about 90meters next friday, then I'll see just how well it behaves under the water. I'll let you know afterwards and I'll update this review if anything significant happens. I know the watch can take it, I trust Dan and his high requirements from the various manufacturers that supplied him parts. And if he says it can take 200m depth I am not claiming it can't unless tested otherwise. But mine is going to be used in active diving duty. This watch made it on my top list fast since it simply delivers what it claims and it doesn't brake the bank.End note: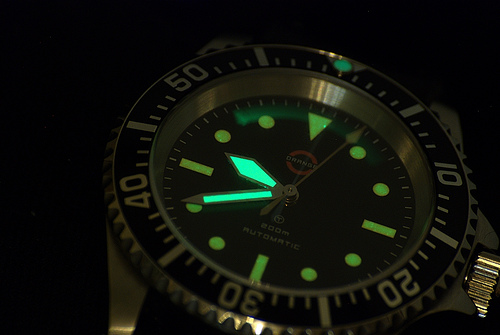 Lume on this thing is a rather good one. Not the best I've seen and I wouldn't describe it as a torch but it works and it works well. It's also relatively long lasting and as such I feel confident using this as underwater timing instrument.
If you would go out and order one right now, what to expect? I've heard that next release will have AR coated crystal, more options available, higher quality case (even if this ones rather nice) and there might be some surprises left untold. But I know it will be the watch to get and since I already own release I I think I'm going with Soprod A-10 version next time. That way I will get ultimate tool watch with superb movement.
I'm sorry to disappoint all people who were looking for me to bash an other watch, I really tried to pick all the bad sides up and even found a few but with watch this good there ain't much to complain about. It has survived on my wrist for the last week and hopefully it will survive years of usage, abuse, diving and swimming ahead. It will be used for what it was designed, as a diver and tool watch not a piece of male jewelry, I have other watches for that you know.
Oh and if you do order one, please as for iced special. I received few pics today from Dan in which he froze one of these and checked it's timekeeping in -24C and inside a block of ice. I bet we're seeing some promotional material from that later but had to tell since I thought that was rather wicked thing to do to a watch considering that if it has even one point in which water can penetrate the case for a bit it will brake it by expanding.